Choose a color to paint your home that can increase its resale value
Color choice matters when it comes to paint – and to selling your house. According to real estate giant Zillow, paint colors dramatically impact the average sales prices of homes. Think a blank slate is the best way to go when you're putting your house on the market? Realtors might say yes. Ann Arbor painters say not so fast.
Blues and Grays: The New Neutrals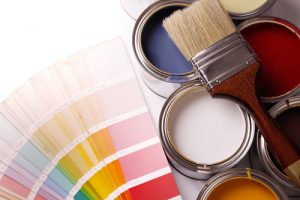 While traditionally cream or off-white on the walls of your home are the recommendation of realtors everywhere, there are new neutrals that are growing in popularity, and offer other perks – like boosted resale value. Zillow's 2017 Paint Color Analysis reviewed over 32,000 photos from homes nationwide. The homes with walls of blue or light gray drew in bigger resale dollars than homes with white walls.
Listing photos are everything in this online and mobile world. Having a good photographer is key, but making sure the subject is excellent is important too. Paint color is a critical part of staging your home, so it's essential to let go of any attachment you have the colors on your walls and consider what's best for your bottom line. You may discover that you can use the help of a painter in Ann Arbor.
6 reasons to use a professional Ann Arbor painter to prep your home for sale >>
What's So Great About Blue and Gray?
Colors evoke emotions, but when it comes to having color on the walls the shades you select also affect the shape and size and mood of a space. Blue and pale gray can make a home feel larger, and which rooms are painted which color matter too. Zillow recommends the following:
Light blue or soft gray-blue in the kitchen. (Above all, avoid yellow – this color can tank resale value.)
Powder blue or periwinkle in bathrooms. (Ditch the off-white lack of paint color, which could lower home sales.)
Light cerulean or cadet blue in the bedroom.
Pale taupe, oatmeal, or light beige in the living room. Light blue and pastel grey in these busy spaces can negatively impact resale value.
Slate blue to pale gray-blue in the dining room.
Dark navy blue to slate gray front doors.
Greige (grey + beige) on the exterior of the home.
You may not want to make any major design decisions before selling your home. And you may not wish to invest in painting if you're moving out. However, painting is one of the most effective and economical ways to freshen and brighten up the square-footage you're trying to sell.
Things to expect from a professional Ann Arbor painter >>
In Love with Blue
It's hard to go wrong with eggshell or off-white paint for your walls. However, if you know your home's listing is going to attract a trendier, design-savvy audience, blue and gray could be just the ticket to push your home from "nice" to "I gotta have it."
Blue remains the favorite color of many, in all parts of life, not just home sales. Seeing a home that reflects their preferences already makes it easier for people to envision themselves in that space. Ultimately, any paint decision you make when you're in a resale frame of mind should have broad appeal. The research shows that blues and grays reign supreme. Contact Fine Line Painting, experienced Ann Arbor painters, to discuss your interior and exterior painting needs.