Drywall and Plaster Repair
It is common for walls to have flaws like bumps, cracks, and even holes. Before painting, thorough prep work is essential, and that includes drywall and plaster repair. The professional painters at FineLine Painting in Ann Arbor, Michigan, carefully restore problem areas to ensure that the final product is always smooth and clean.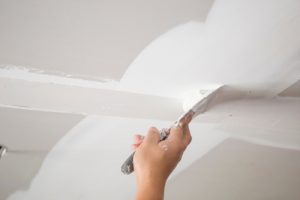 Drywall Restoration – Part of Every FineLine Painting Job
Drywall and plaster repair are simply part of any paint job completed by the experienced painters at FineLine Painting. Our crews professionally repair or replace drywall where needed before any painting begins.
Drywall can be marred by:
Nail pops
Water stains
Water damage
Wallpaper backing
Wallpaper glue
Loose drywall tape
Doorknob holes
Cracked molding
Drywall restoration can include small patch jobs or the replacement of entire sheets of drywall. Whatever the imperfections, the areas to be treated will be sanded, patched, dusted, and wiped down in preparation for primer and paint.
Drywall and Plaster Repair Company in Ann Arbor
Every drywall and plaster repair job with FineLine Painting includes the following:
Free professional estimate: The consultation for a free estimate is the time for you to explain what you want for your walls and point out any problem areas that need drywall and plaster repair. Our painting and drywall repair professionals will evaluate the condition of the walls and identify other areas that could be problematic for a paint job, so you can discuss the best course of action to get the desired results.
Thorough and careful prep: Before any work on your home or office walls begins, the job will be reviewed so everyone is on the same page. Once all items of business are confirmed, the prep work begins. A workstation will be established and drop cloths will be used to protect furniture, appliances, and all belongings. Items that can and need to be moved will be temporarily relocated. Light fixture covers, switch plates, and window hardware will be removed. Patching, caulking, sanding, and drywall repair and plaster repair will be completed.
Precise work: Quality drywall and plaster repair are an essential step in painting. No matter how flawless the rest of a wall looks, if a damaged area is not tended to first, it will remain an eyesore. Meticulous work will be done to create smooth and flaw-free walls before priming and painting is completed.
Clean-up: No job with FineLine Painting is complete until the work area is returned to the same condition in which it was found. All items will be put back in their proper positions and surfaces will be cleaned off as needed. The only thing that will be left behind is an impeccable drywall and plaster repair and a professional paint job.
Beautify Your Walls with Drywall and Plaster Repair from FineLine Painting
It doesn't matter how a wall is damaged. What matters is that it is properly repaired. Some drywall problems require in-depth work, so the unsightly issue is completely resolved and won't return. Trust that the experience and expertise of the FineLine Painting crews will achieve the result you are seeking when it comes to drywall and plaster repair and painting.
Contact the experts at FineLine Painting in Ann Arbor, Michigan, to schedule a free estimate. We look forward to restoring your walls and bringing them new life.