Interior Residential Painting
Revitalize your home with one of the most affordable, long-lasting decorating techniques – a fresh coat of paint from professional interior residential painters in Michigan!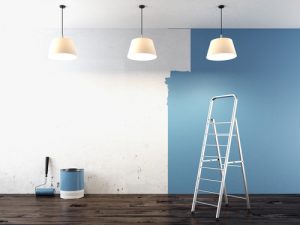 Painting your home is a big job. Even if you're up to the task and have the precision to execute it, do you have the time and energy to spare? A professional interior residential painting company efficiently and carefully paints your home for you, whether one accent wall, a room, a hallway, or an entire home, whether new construction, remodel, or repaint.
What to Expect from a Top-Quality Interior Residential Painting Company in Michigan
Here is what every client can expect from the professional interior residential painting services offered by Fine Line Painting in Ann Arbor, Michigan:
Free professional estimate: We provide an estimate of what your painting project will cost from start to finish. This service includes evaluation of the surfaces, professional advice on paint selection and finishes and if desired, color selection. Signed estimates become our contract should you choose Fine Line Painting to carry out your interior residential paint job. Small projects can usually be completed in one to two days.
Considerate service: The first day of every residential painting job begins with a meet-and-greet. The owner, who works directly with his painting crew during the entire job, will introduce everyone who will be working in your home. The entire job will be reviewed before any painting begins, and a timeline will be defined so that the painting is minimally disruptive to your family's daily routine. Homeowners are updated daily on progress until the project is complete.
Careful prep: Without thorough prep work, no paint job can be properly completed. Our crew will establish and set up a workstation area for our supplies. Furniture, appliances, and other items will be moved away from the walls where needed, and drop cloths will be used to protect all belongings. Prep also includes the removal of light fixture covers, switch plates, and window hardware. Ceilings, walls, and trim are dusted, wiped down, sanded, patched, and caulked where necessary. After each step in the painting process, areas are cleaned up or vacuumed to ensure a pristine working area.
Methodical work: Ceilings are painted first. Trim comes next, then the walls themselves. Baseboards are saved for last. If a second coat of paint is needed and included in the project, it is applied immediately after the first coat dries.
Thorough clean-up: A painting project is not complete until everything in your home is put back right where our crew originally found it. All light fixture covers switch plates, and window hardware will be reattached. Furnishings will be returned to their positions and drop clothes will be carefully removed. After the workstation has been cleaned up and moved out, a final vacuuming is conducted and cleaning, where necessary.
Professional Interior Residential Painting in Ann Arbor
Maybe you're getting your home ready to put on the market. Perhaps you're planning for a new addition to the family. Or you may have fallen in love with the color of the year and want to see it on an accent wall in your dining room. Every homeowner's needs are different, and there is no right or wrong way to paint a home.
At Fine Line Painting, we guarantee impeccable work, completed to your wishes – and our high standards. We provide only the highest-quality craftsmanship in each of our painting projects, whatever the size. If you are simply thinking about interior painting for your home, or if you know you are ready to get moving on this home improvement, contact Fine Line Painting today for your free estimate.