Residential Painting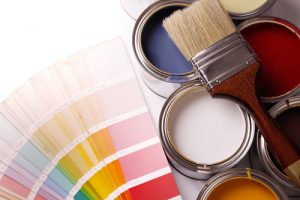 Top-quality interior and exterior residential painting makes your home stand out. FineLine Painting in Ann Arbor, Michigan, provides customized residential painting services for homeowners, whether you occupy a house, apartment, condo, townhouse, tiny house, or otherwise.
Residential Painting in Ann Arbor, Michigan
From walls to trim, decking to railings, flooring to ceilings, each homeowner has their unique painting needs. Exterior residential painting and interior residential painting jobs are most successful when they are carried out by quality, experienced, professional Ann Arbor painters who know how to carefully plan, prep, execute, and clean up after every job.
Possibilities for Interior Painting
Top-quality interior painters in Michigan have the knowledge and resume to deliver on your painting wishes. Our work brings to life the vision you've been imagining:
Dramatic accent wall.
Cleverly painted hallway.
Chalkboard wall for the playroom.
Upgraded basement floor.
Colorful tray ceiling.
Comfortable child's nursery.
Striking media room.
Unique powder room.
Bright sun room.
Flawless trim and moldings.
Revitalized house.
Interior painting efforts refresh rooms so dramatically that it isn't necessary to purchase new furniture or accessories to spruce up a space. The paint speaks for itself. Painting is an affordable, powerful, and long-lasting way to enhance your living spaces.
Considerations for Exterior Painting
Maybe you want to revitalize your curb appeal or realize it's finally time to focus on the little things. Exterior painting is just as involved and important as interior painting, perhaps even more so. Exterior residential painting carries with it the responsibility of careful prep (dirt, dust, grime, and pollen needs to be power washed away) and meticulous execution, whatever you are seeking exterior painting for:
Fresh window trim.
Upgraded siding.
Renewed deck stain.
Brightened railings.
Refreshed porch ceilings.
Enhanced brick façade.
Elevated cement patio.
Unique front door.
Expert painters work to efficiently but thoroughly complete every exterior paint job so your home is not left in an unsightly state during the painting, and so the paint job lasts for as many years as possible. Surfaces you may never have even considered painting outdoors can often be improved with a coat of carefully chosen paint. Your FineLine Painting experts in Ann Arbor will let you know what's possible.
Choose FineLine Painting in Ann Arbor for Your Residential Paint Job
There are so many reasons homeowners choose paint as their preferred home improvement method. After all, paint can hide flaws, correct problems, change the feel of a room or home, and impact mood. Color is a powerful design element, and paint is one of the ingredients that plays a role in your décor.
Allow us to set the scene for you, whether your painting needs are inside or outside. FineLine Painting guarantees impeccable workmanship and service on every painting job, providing the following to every customer:
Free estimate.
Minimal disruption.
Thorough prep.
Thorough work.
Meticulous clean-up.
FineLine Painting is the go-to painting company for quality residential painting in Ann Arbor and the surrounding areas. Revitalize your home with the help of our talented painters. We will help you solidify your vision and carry it to completion. Contact FineLine Painting to schedule your free estimate.